Only in the winter, if there is enough snow, the "coolest" escape game in the world awaits you on the slopes of Kranjska Gora ski resort.
POP UP Escape Igloo® is weather permitted project . We decided to skip the season 2017 – 2018 since of  lack of natural snow. We'll leave the snow to our Olympic team, so they can practice before the winter Olympics!
During the rest of the season you can play the "indoor version" of the Escape Igloo at Escape Room Enigmarium Ljubljana!
ESCAPE FROM AN IGLOO, CAN YOU DO IT?
"Welcome to our Escape Igloo, a world novelty presented by the team at Escape Room Enigmarium®! Get ready for an incredibly fun, original and one of a kind challenge: to escape from a real igloo! Escape Igloo Enigmarium® has been created using the model of the escape room game, but now placed in a completely new setting and with unique riddles – a fairytale game in which you will solve different puzzles and riddles, perform tests of dexterity and compete against time on the most important mission: to save the planet! Will you succeed? That we don't know. We do know that a wild adventure and a super fun time await you!"
Book Now!
Because of the lack of natural snow, the Escape Igloo will skip the season 2017/2018 in Kranjska Gora. But you can still play a great outdoor game!
If you are in Kranjska Gora, visit the nearby Slovenian Alpine Museum in Mojstrana, where a playful adventure path called "Escape to the Bivouac", a pioneer innovation conceived and realized by the team at Enigmarium®, awaits you.

You can still play the indoor version of our Escape Igloo at Escape Room Enigmarium Ljubljana all year round on Trdinova 8, Ljubljana!
Book your session in Ljubljana below or call (0)31 33 44 88.
Price
There is one price for all sessions in the Escape Igloo: 60 EUR. The price is the same regardless of the number of participants: min 2 and max 5.
Book your session in advance using our booking system above.
Pay for your session in cash only when you arrive to play.
Questions? Call us at (0)31 33 44 88 or write us at info@escape-igloo.com
The Escape Igloo is perfect for "Team Building" activities or for a truly special birthday celebration – Give us a call at (0)31 33 44 88!!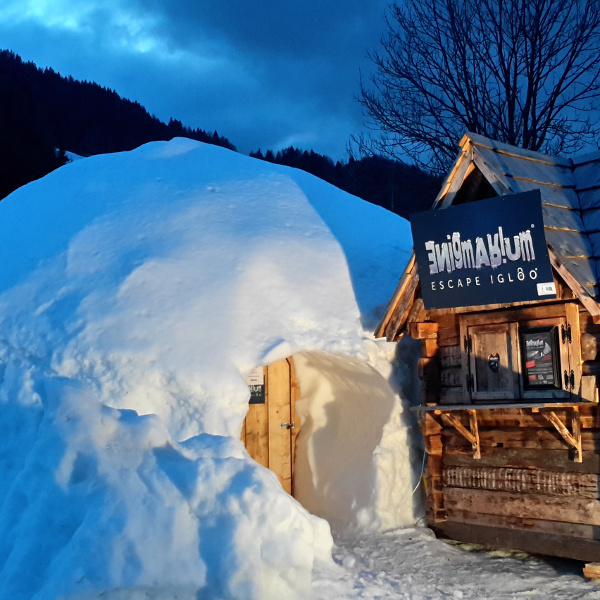 Instructions
Please arrive at the Escape Igloo  at least 10 minutes before the start of your session. Your friendly Gamemaster will explain the rules and ask you to sign a Non-disclosure Form – surely you can agree that it wouldn't be cool if someone told you the answers in advance and spoilt the fun…
Contact
Escape Igloo (Enigmarium d.o.o.)
Winter – if there is enough snow -Dolenčev rut, Kranjska Gora
ALL YEAR ROUND: Trdinova 8, Ljubljana
Phone: (0)31 33 44 88
E-mail: info@escape-igloo.com
Operating hours
Advance bookings via Internet are mandatory, since Escape Igloo Enigmarium unlocks its doors only at previously scheduled times. Due to unpredictable weather conditions we are not certain how long it will be before the Escape Igloo melts. Hurry and book now before you miss out!
Possible booking times are 10.00, 10.45, 11.30, 12.15, 13.00, 14.00, 14:45, 15.30, 16.30, 17.15, 18,00, 19.00, 19:45 in 20.30 from Monday to Sunday.
FAQ and Good things to know